From the Colli Fioriti campsite,  you can reach and visit the city of Como in half an hour by car or an hour by bus. Below are the most important sights to visit.
Villa Olmo
Villa Olmo is a beautiful neoclassical villa designed by Simone Cantoni at the end of the eighteenth century, who re-elaborated  an earlier draft by Innocenzo Regazzoni, at the behest of the Marquis Innocenzo Odescalchi.
The villa owes its name to a large elm, now no longer present, that grew in the garden. Inside there are a chapel and a theater.
The villa overlooks the western shores of Lake Como and was used by the family of the Marquis during summer.
Over the centuries, the villa was home to several famous people, such as Napoleon Bonaparte and Ugo Foscolo.
Today, Villa Olmo is owned by the town of Como and is used as a conference center and a venue for major art exhibitions.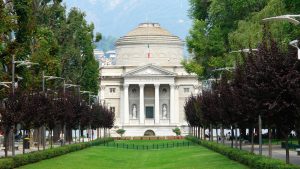 Volta Temple
The neoclassical building designed by the architect, Federico Frigerio, who was inspired by the Pantheon, was built thanks to funding from the industrialist, Francesco Somaini, who desired to bestow a  museum in memory of Alessandro Volta for the 100 year anniversary of his death.
Opened in 1927, the Volta Temple, after it was destroyed by a fire in 1899 during the International Exhibition of Electricity, was then faithfully reconstructed in part.
It was built to house equipment and scientific instruments, in the central hall of the ground floor, which had belonged to Alessandro Volta.
On the first floor, however, you can admire relics, letters, publications, and portraits of the scientist – also politician and professor –  along with the awards he received during his lifetime, and after death.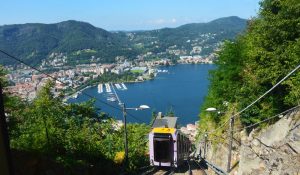 Como-Brunate cable car
The Como-Brunate cable car, inaugurated in 1894, connects Como with the "terrace" town of Brunate, where you can rest your eyes on the dominating view of the beautiful panorama of Como and its lake.
An exciting journey! The cable car consists in two small cars that climb up a steep hillside, allowing you to quickly reach the small village of Brunate, from which you can admire: the entire the lake, the Lombard plain, and the Alps with the Monviso and Monte Rosa.